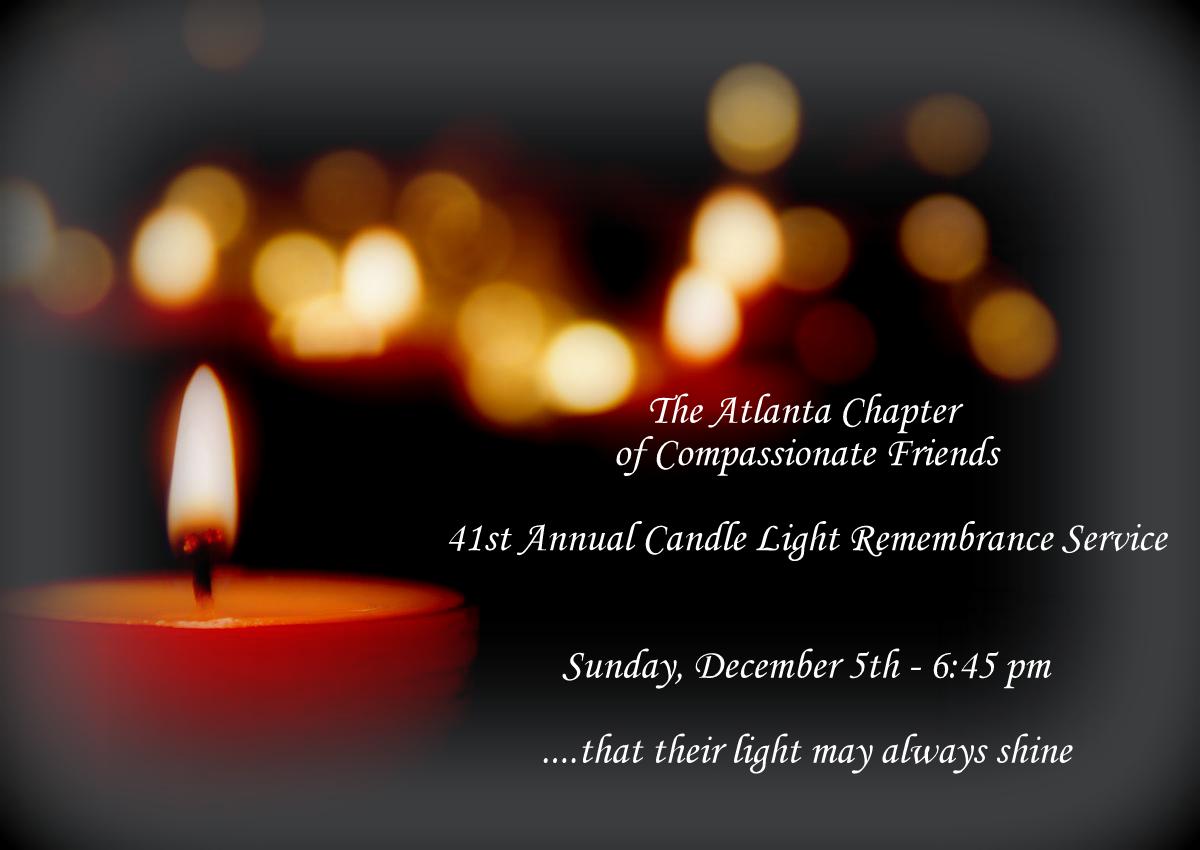 Please join us at this very memorable program honoring our children and siblings.
First Christian Church of Atlanta, 4532 Lavista Rd, Tucker, GA
Sunday, December 5th – 6:45 pm
Special Music and Guest Speakers
Note: Special music and memorial video beginning shortly after 6:30 p.m.
Our Special Guest Speaker is: Mahaelia Lango
We will also have a memorial candlelight ceremony. Candles will be provided at the service.
Reception and Memorial Video
After the service, we hope you will join us for a reception in the Fellowship Hall. We will have a memorial video presentation in memory our children and siblings along with desserts and drinks. Chapter will provide all food and drinks.
We hope to have live streaming on our "Compassionate Friends of Atlanta" Facebook page.
If you are not a member of the page you will need to join.
Memorial Video
Also, if you have never submitted a photo for our slide show or for picture buttons, Nov. 30th is the deadline. If you have sent a photo in previous years, you do not need to re-send one. This is a reminder for our new chapter members. Photos should be scanned in high resolution and sent to Wayne Newton by e-mail at newtonwm70@gmail.com . You can also text your photos to 678-520-2442. Or, mail your photo to: Wayne Newton, 808 Brentway Court, Lilburn, GA 30047 Your photo will be returned to you unharmed at the candle lighting along with 2 picture buttons.
We plan to stream the candlelighting LIVE on our Compassionate Friends of Atlanta Facebook Group
Candlelighting Invitation
http://www.tcfatlanta.org/2021Candlelighting.pdf

The Compassionate Friends of Atlanta Facebook Group
The Compassionate Friends of Atlanta now has a Facebook Group. We invite you to join.

For more information, Click the following link
https://www.facebook.com/groups/43057397614/


We also have a Sibling Facebook Group Ages 13 and up....
The Compassionate Friends of Atlanta Siblings Group
https://www.facebook.com/TCFAtlantaSiblings


You will need to log into Facebook to join the group. You will also need a Facebook account (they are free).
Our hope is that you will be able to connect to someone to help you in your grief journey.
Remember "We Need Not Walk Alone".

TCF Atlanta Chapter Quarterly Newsletters
Atlanta Chapter Newsletter - Fall 2012
Atlanta Chapter Newsletter - Summer 2012
Atlanta Chapter Newsletter - Spring 2012
Atlanta Chapter Newsletter - Winter 2012

Prior Newsletter Archives for Atlanta Chapter


TCF Gwinnett Chapter Quarterly Newsletters
Gwinnett Chapter - Summer 2015
Gwinnett Chapter - Spring 2015
Gwinnett Chapter - Winter 2014
Gwinnett Chapter - Autumn 2014
Gwinnett Chapter - Summer 2014
Gwinnett Chapter - Spring 2014
Gwinnett Chapter - Winter 2013
Gwinnett Chapter - Autumn 2013
Gwinnett Chapter - Summer 2013
Gwinnett Chapter - Spring 2013
Gwinnett Chapter - Winter 2013

Prior Newsletter Archives for Gwinnett Chapter


TCF Marietta Chapter Bi-Monthly Newsletters
Prior Newsletter Archives for Marietta Chapter

Resources for the Newly Bereaved
(Please feel free to print and distribute to those in need)
TCF Atlanta Area Information Brochure

Special Newsletter for Suicide by Kitty Reeves