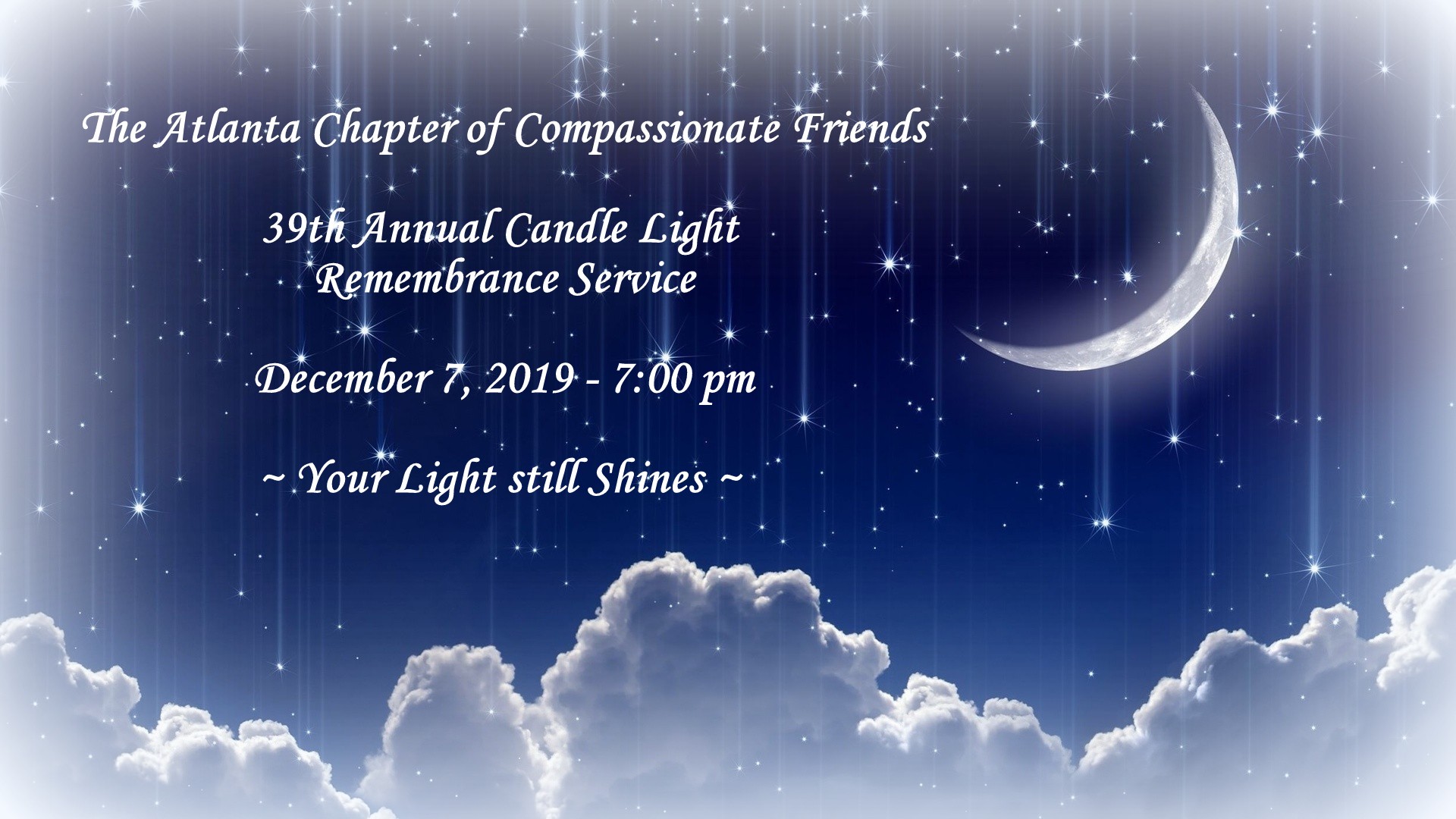 Please mark your calendar and plan to join us at our 39th Annual Candle Light Remembrance Service
Saturday, December 7, 2019 - 7:00 p.m.
First Christian Church of Atlanta, 4532 Lavista Road, Tucker, GA 30047
Reception to Follow
For more information please go to following website:
www.tcfatlanta.org/Candlelighting2019.html
To order a Remembrance Candle go to the following website
www.tcfatlanta.org/Candlelighting2019MemoryCandles.html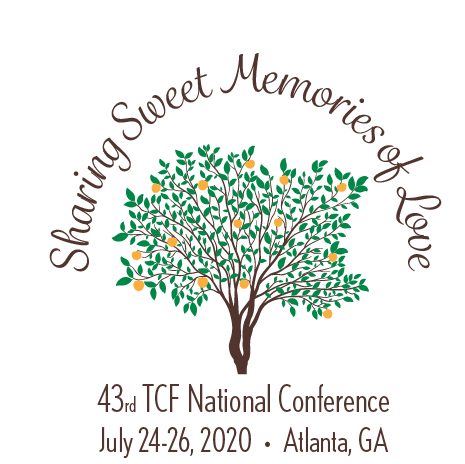 Mark your calendar and join us in Atlanta for the TCF National Conference
July 24-26, 2020 at the Marriott Marquis in downtown Atlanta.

The Compassionate Friends of Atlanta Facebook Group
The Compassionate Friends of Atlanta now has a Facebook Group. We invite you to join.

For more information, Click the following link
https://www.facebook.com/groups/43057397614/


We also have a Sibling Facebook Group Ages 13 and up....
The Compassionate Friends of Atlanta Siblings Group
https://www.facebook.com/TCFAtlantaSiblings


You will need to log into Facebook to join the group. You will also need a Facebook account (they are free).
Our hope is that you will be able to connect to someone to help you in your grief journey.
Remember "We Need Not Walk Alone".

TCF Atlanta Chapter Quarterly Newsletters
Atlanta Chapter Newsletter - Fall 2012
Atlanta Chapter Newsletter - Summer 2012
Atlanta Chapter Newsletter - Spring 2012
Atlanta Chapter Newsletter - Winter 2012

Prior Newsletter Archives for Atlanta Chapter


TCF Gwinnett Chapter Quarterly Newsletters
Gwinnett Chapter - Summer 2015
Gwinnett Chapter - Spring 2015
Gwinnett Chapter - Winter 2014
Gwinnett Chapter - Autumn 2014
Gwinnett Chapter - Summer 2014
Gwinnett Chapter - Spring 2014
Gwinnett Chapter - Winter 2013
Gwinnett Chapter - Autumn 2013
Gwinnett Chapter - Summer 2013
Gwinnett Chapter - Spring 2013
Gwinnett Chapter - Winter 2013

Prior Newsletter Archives for Gwinnett Chapter


TCF Marietta Chapter Bi-Monthly Newsletters
Prior Newsletter Archives for Marietta Chapter

Resources for the Newly Bereaved
(Please feel free to print and distribute to those in need)
TCF Atlanta Area Information Brochure

Special Newsletter for Suicide by Kitty Reeves