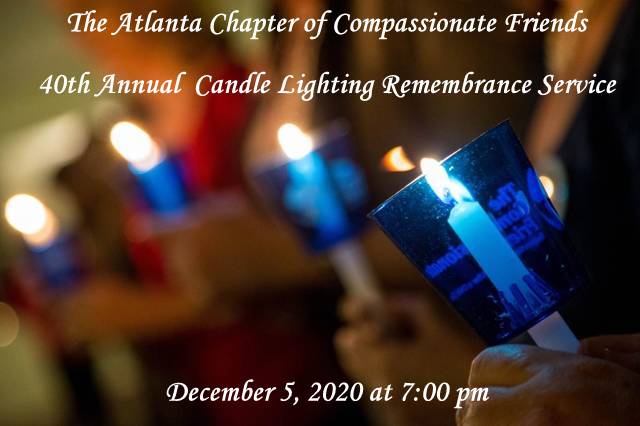 The Atlanta Chapter of Compassionate Friends will hold a
Virtual Candle lighting Service on Saturday, Dec. 5th at promptly 7:00 pm.
We will have two speakers...a parent speaker and sibling speaker.
Please have a candle with you and if you like a photo of your child or sibling.
The Zoom meeting room will open at 6:30 p.m. and
the Children's Memorial Slide Show will begin around 6:45 p.m.
If you have not done Zoom before we suggest you log in early to make sure everything is working.

JJoin Zoom Meeting
https://zoom.us/j/5812967390?pwd=ZGtBTko4bU1Hb25LSzVHMkxxanpXUT09
Meeting ID: 581 296 7390
Passcode: 395459
We look forward to everyone joining us on this special day.

The Compassionate Friends of Atlanta Facebook Group
The Compassionate Friends of Atlanta now has a Facebook Group. We invite you to join.

For more information, Click the following link
https://www.facebook.com/groups/43057397614/


We also have a Sibling Facebook Group Ages 13 and up....
The Compassionate Friends of Atlanta Siblings Group
https://www.facebook.com/TCFAtlantaSiblings


You will need to log into Facebook to join the group. You will also need a Facebook account (they are free).
Our hope is that you will be able to connect to someone to help you in your grief journey.
Remember "We Need Not Walk Alone".

TCF Atlanta Chapter Quarterly Newsletters
Atlanta Chapter Newsletter - Fall 2012
Atlanta Chapter Newsletter - Summer 2012
Atlanta Chapter Newsletter - Spring 2012
Atlanta Chapter Newsletter - Winter 2012

Prior Newsletter Archives for Atlanta Chapter


TCF Gwinnett Chapter Quarterly Newsletters
Gwinnett Chapter - Summer 2015
Gwinnett Chapter - Spring 2015
Gwinnett Chapter - Winter 2014
Gwinnett Chapter - Autumn 2014
Gwinnett Chapter - Summer 2014
Gwinnett Chapter - Spring 2014
Gwinnett Chapter - Winter 2013
Gwinnett Chapter - Autumn 2013
Gwinnett Chapter - Summer 2013
Gwinnett Chapter - Spring 2013
Gwinnett Chapter - Winter 2013

Prior Newsletter Archives for Gwinnett Chapter


TCF Marietta Chapter Bi-Monthly Newsletters
Prior Newsletter Archives for Marietta Chapter

Resources for the Newly Bereaved
(Please feel free to print and distribute to those in need)
TCF Atlanta Area Information Brochure

Special Newsletter for Suicide by Kitty Reeves